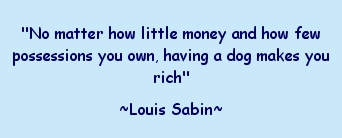 "Four Paws Sake has been caring for our cats when we travel for several years. The dedication and concern for our pets has always been evident.  Last year one of our elderly cats became seriously ill and is now healthy but in need of ongoing medication. Four Paws Sake is always very dedicated in seeing that Magnum has his meds and all three are doing well while we're gone. We never have a concern for their well-being and know that they would call us if the need arose."  K. Weeks & J. Wright, River Heights/Tampa

"It makes our trips so much easier – MUCH less stressful mentally! - knowing that our four footed family members are in such capable, caring hands. This is especially so since we are a "special needs" household with 3 FIV positive cats, one with feline leukemia, and of course there's the potbellied pig in the back yard. It is wonderful to have absolute confidence that all are being well cared for while we're gone. Thanks for many years of taking care of us!"

Kathie A. and Jim G.

" I have used Four Paws for several years now and can not brag enough about the service. I have two cats in which they have taken care of them for a long weekend up to two weeks at a time. We never see a difference in care; always impeccable. I trust them with my home and with my animals and they never disappoint. The only bad thing is I don't think my kitties even miss us.

Karen C.

"I have used Four Paws Sake for nearly 15 years for pets ranging from highly-demanding saltwater fish tanks to easygoing cats. The caregivers have always taken outstanding care of my pet family, going above and beyond in several cases to make sure everything was in order. Amanda, reached out to me directly to arrange to meet my diva cat duo and provided the same excellent care I've come to expect while I was away in January. It's such a relief to be able to travel knowing that my pets and home are in good hands. I've recommend FPS to many others in Seminole Heights and will continue to do so."  Angela W.

Earn a $10 credit for your referrals!