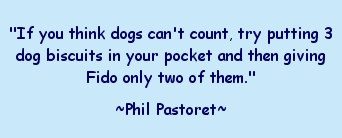 Keep coming back for more great photos!  We are adding new ones all the time.

Click the images below to enlarge

If you have photos you'd like to share, feel free to email them to us @ pawssake@gmail.com and we'll be happy to add them to our albums.
"Myself and my two young daughters recently moved from the UK to Florida. We were extremely worried about bringing our dalmatian Luna, but she's such a big part of our family. Before anything was booked I spoke at length to Caren, sending her pictures of Luna with the children and myself. We discussed every aspect of the travel and made arrangements. The whole procedure is a huge, expensive and traumatic experience for all involved. If only I could have explained to her that we would be waiting at the other end! Caren met Luna at Tampa airport, after an eight hour flight, took care of the paperwork, cleared her through customs and brought her home safely to two very, very excited children. Her attitude all the way through the planning and the collection and delivery were professional and reassuring. Luna arrived to us tired, but very happy and in great shape. If you have an animal to transport, don't waste your time looking through other sites. Thank you so much, the Walsh family"

Luna is happy at home with "her girls"!